Heavy Duty Vacuum Cleaner
The range of machine is designed to serve as the continuous source of vacuum for heavy industrial use.
---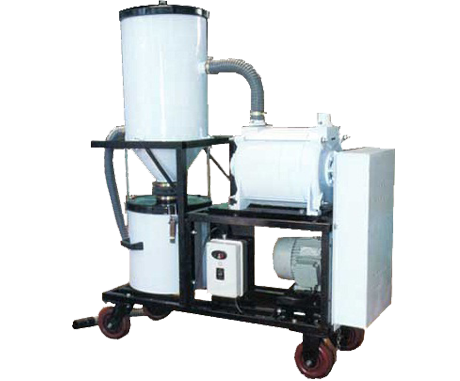 Standard Features Incorporated
Robust & Compact Design.

Rigid Tubular Steel Frame to withstand Rough Handling.

All steel Construction of Filter Chamber & Dust Collection Chamber.

Modification of Vacuum Producer Ranging from Three to Eight Impellers in Series depending upon Vacuum Requirement.

Depending upon Vacuum Requirement.

Fabric Filter with Manual Shaking Arrangement to Relieve Filter Clogging.

Units Driven By TEFC Induction Motors.

Electric Overload Protection by means of Automatic Motor Starters.
---
Applications
Heavy engineering industries for oil, chip & dust collection.

Fertilizer, pharma, power stations, food processing as basic source of vacuum.

Continuous Flux recovery system for submerged arc welding processes.

Vacuum degassing in foundries to avoid micro porosity in castings.

Centralised vacuum systems for collection of both fine & large particles.

As Hopper loader for plastic processing industries.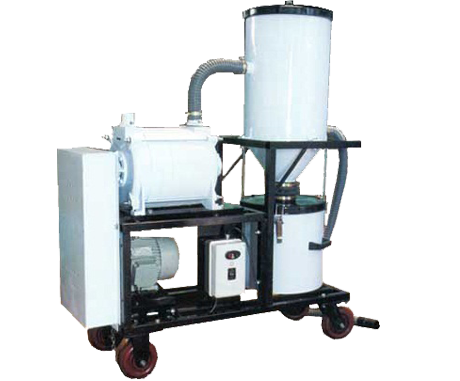 Additional special purpose fittings which can be added to the basic machine include
Cyclone Separator
Cyclone Separator for Fine Dust Collection.
Baffle Separator
Baffle Separator for Wet Collection & Chip Extraction.
Special HEPA & Micro Filters
Special HEPA & Micro Filters for very Fine Filtration Requirements.
Flameproof Motors
Flameproof Motors can be added to the basic machine.
---
Technical Specifications
| Machine | Vaclean-3 | Vaclean-6 | Vaclean-8 |
| --- | --- | --- | --- |
| Motor | 2 H.P. | 3 H.P. | 5 H.P. |
| Voltage | 415 V | 415 V | 415 V |
| Vacuum Producer | 3 Stage | 6 Stage | 8 Stage |
| Suction mm WG | 1200 | 2200 | 2500 |
| Air Displaceent (m3/Hr) | 275 | 340 | 375 |
| Capacity (Liters) | 30 | 30 | 30 |
| Approx Weight (Kg) | 120 | 140 | 160 |