Dust Collectors
We have a wide range of Dust Collectors which comes in different ranges such as DC-40-80-100. Out of these three ranges, the DC-40 is powered by a fan which is directly mounted on the shaft of the induction motor. Then, the motor and fan are both designed for continuous operation in severe conditions. Other than this, the DC-80 and DC-100 employ a fan which is driven through a V belt and pulley by a 3 hp and 5 hp induction motor. Further, these dust collectors provide suction power ideally suited for collection of large quantum of dust at source. Moreover, a Mini Cyclonic Separator, which is attached with the stationary dust collectors and is added to collect line dust and eliminate filter clogging. After this the primary collection is dome through cyclonic separator.
---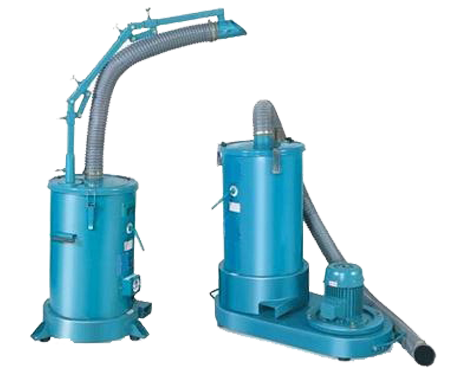 Features and Benefits
Five axis movement of universal attachment-Easy positioning of mouth piece for optimum dust collection.

Universal dust collection attachment- Adaptable to Surface Grinders / Tool and Cutter Grinders.

Compact construction- Minimum floor space required.

Fabric Filter- Elimination of dust up to 20 micron particle size.

Metallic Dust container- Easy disposal of dust.
Some of the accessories which we use in our range are
Universal Collection Attachment with Adjustable Mouth Piece
---
Technical Specifications
| Components | DC 40 | DC 80 | DC 100 |
| --- | --- | --- | --- |
| Motor | 440V, 3 Phase, 0.5 hp | 440V, 3 Phase, 3.0 hp | 440V, 3 Phase, 5.0 hp |
| Air Displaceent | 400 m2/hr | 1100 m2/hr | 1200 m2/hr |
| Closed Seal Suction | 200 mm WG | 500 mm WG | 750 mm WG |
| Dust Collection Capacity | 7 Liter | 14 Liter | 14 Liter |
| Dimensions in mm | L-650 W-600 H-1500 | L-950 W-470 H-1500 | L-950 W-470 H-1500 |